Un soir, je reçus un appel de New York d'un ami musicien. Il me proposait de venir faire les photos de son futur disque et en plus il m'ébergeait à l'Ansonia, un magnifique immeuble Beaux-arts à l'angle de Booadway et de la 73ème rue.
One evening, I receved a call of New York from a friend musician. He offered me to come to make the photographs of his cover record and on top of that lived in the Ansonia, a splendid building Fine arts in the angle of Booadway and the 73rd street.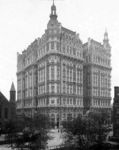 Tous les soirs il jouait du piano d'ambiance au restaurant la Coupole.
Every evening he played the « Ambiance » piano in the Coupole.
On dit souvent que Manhattan regorge de surprises à chaque coin de rue. La Coupole en fut une de taille.
Manhattan is packed in surprises in every street corner. The Coupole was a big one.
C'était la réplique presque conforme de la célèbre brasserie du Boulevard de Montparnasse à Paris. Elle était décorée par des toiles collées avec du scotch marron qui donnait un aspect atelier d'artiste. Des Picasso, des Matisse, des Chagall, des Klee, des Dufy, des Degas et d'autres grands peintres. La Coupole était la propriété d'un Playboy français.
It was the almost correspondent of the famous brasserie of the Boulevard of Montparnasse in Paris. La Coupole of New York was full of Picasso, Matisse, Chagall, Klee, Dufy, Degas and other Masters of painting, glued together by brown scotch tape which gave an aspect artist's workshop. The Coupole was the ownership of a French Playboy.
Situé sur la deuxième avenue, il en avait fait un lieu branché où les mannequins, les avocats et tous les faussaires de la ville se donnaient rendez-vous à la tombée de la nuit. Je ne mis pas longtemps a savoir qui avait fait les toiles accrochées aux murs, ni a rencontrer le peintre : David Stein.
Located on the second avenue, it had made a connected up place where the models, the lawyers and all forgers of the city arranged to meet in night closing. I did not put for a long time has knowledge which had made the paintings, nor has meet the painter : David Stein.
Copyright Stéphane Korb 2009. Reproduction interdite sans autorisation écrite de l'auteur.